Sign up below for service projects. For more information, see our Faith in Action page.
"It is not enough to say we are Christians. We must live the faith, not only with our words, but with our actions." -Pope Francis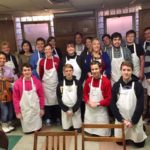 FOCUS Sunday Supper – September 3, 2017
Come share a meal with some of our homeless neighbors. This service project is sponsored by The Crew - High School Youth Ministry, but all ages are welcome. Children who are 8th grade or younger must be accompanied by a parent.