Worship Committee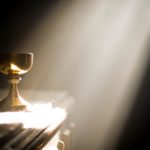 The Worship Committee coordinates the most important area of parish life—the worship of our faith community. Together with the parish priests, the members plan seasonal, ordinary-time, and special Liturgies. Contact person: Carol Craft, 314-842-2626 or send an email.
When my nephews were young children, I watched an interesting interplay at a family gathering.
My good friend from my grad school years, Mary, did some volunteer work in Houston after graduation, and there met and then married a man named Sam Clark from Longview, Texas.
If you have ever been to a gathering where you don't know too many people, then you know how important a good introduction is.