Worship and Sacraments Commission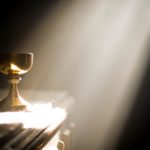 This commission works to ensure that the Eucharist permeates all activities of the parish by increasing participation at Mass, connecting liturgies to the works of mercy and outreach of the parish, and facilitating a more coordinated use of homilies and catechesis to reinforce teaching. The commission also assists in preparing parishioners for the sacraments and promotes Eucharistic Adoration. Commission Chair: Carol Craft, 314-842-2626 or send an email.
MassTimes.org will help you find a Mass when you are away from home. Search by city or zip code.