If you prefer, you can view events in a monthly calendar.
Save the date: See a list of important dates for the coming year.
Upcoming Deadlines: The Crew - High School Youth Ministry
Upcoming Events: The Crew - High School Youth Ministry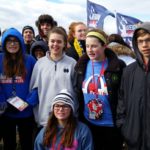 March for Life in Washington DC
Wednesday, January 17th to Sunday, January 21st
Thirteen teenagers and five chaperones from St. Justin are going on a pilgrimage to Washington DC for the annual March for Life. Please pray for the success of our trip and a conversion of hearts in our nation as we witness for the dignity of all human life.
Teen Movie Night and PJ Party
Saturday, January 27th
Eighth graders and high school students are invited to a movie night in the rectory basement. Get comfortable and wear your PJ's if you like. Popcorn, soda, and other refreshments will be provided.
Luke 18 – Confirmation Retreat
Friday, March 9th to Sunday, March 11th
Luke 18 is a part of the Confirmation preparation program at St. Justin Martyr.
Spring "Come and See" Weekend
Friday, March 23rd to Sunday, March 25th
All high school young men are invited to Kenrick-Glennon Seminary for a "Come and See" Weekend in March.  Learn more about the seminary and the programs sponsored by the Office of Vocations.