If you prefer, you can view events in a monthly calendar.
Save the date: See a list of important dates for the coming year.
Upcoming Events: High School Youth Ministry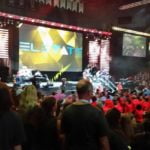 Steubenville 2018
Friday, July 20th to Sunday, July 22nd
Steubenville is a high energy Catholic youth conference with thousands of other teens from the St. Louis area. It takes place on the campus of Missouri State University in Springfield Missouri. High school students will encounter Jesus through the sacraments, speakers, and worship music.