If you prefer, you can view events in a monthly calendar.
Save the date: See a list of important dates for the coming year.
Upcoming Deadlines
Upcoming Events
Food Collection Service Project
Saturday, November 18th
We will box food collected by the Cub Scouts so it can be delivered to the St. Louis Food Bank. All high school students and eighth graders are welcome. Invite a friend
Eat. Talk. Pray. – Attitude of Gratitude
Sunday, November 19th
We tend to take gifts for granted. How can we cultivate a sense of thankfulness, especially for our everyday blessings? High school students are invited for lunch, fellowship, and discussion in the rectory basement after 11AM mass.
PSR All School Thanksgiving Mass
Monday, November 20th
PSR All School Thanksgiving Mass beginning at 6:45 p.m. in Church. All students are asked to bring a non-perishable food item.
High School Vocations Essay Contest Deadline
Monday, November 27th
Attention high school sophomores! Can you tell us about how your relationship with a priest, sister, seminarian, or deacon has enriched your life as a Catholic? Enter the Serra Club Vocations Essay Contest. You could win a cash prize.
PSR Advent Family Night Grades 5-8
Monday, November 27th
PSR Advent Family Night, November 27th, for Grades 5-8 beginning at 6:30 p.m.
Cub Scout Pack 116 Pancake Breakfast with Santa
Sunday, December 3rd
Annual Pancake Breakfast with Santa to support the Cub Scouts of St. Justin Martyr.
Advent by Candlelight
Sunday, December 3rd
Women, join us on December 3 from  6:00-9:00PM  to kick of the Christmas season with JOY!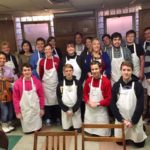 FOCUS Sunday Supper Service Project
Sunday, December 10th
We will serve Sunday Supper at FOCUS Gateway City. Every Sunday, this program serves over 100 meals to those in need in our community. All ages are welcome to join us, but students in 8th grade or younger must be accompanied by a parent. Be a messenger of peace through service to others.
Celebration of First Reconciliation
Wednesday, December 13th
Second grade students will celebrate the Sacrament of Reconciliation for the very first time. A reception for the children and their families will follow in the Gathering Area.